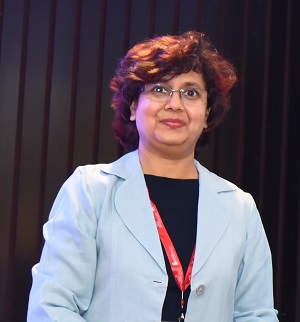 Ms. Neetu Kishore
Partner, Business Services
Neetu has experience of 23+ years, spanning across various IT systems, Infrastructure solutions and management services in various organizations. She has taken up challenging opportunities to transform IT environments, prepare the organization and lead through various IT environmental and technological changes. Her responsibilities have been around making IT an enabler and partner to business, leveraging diverse talents and skills across geographies.
Her last role in the corporate world was with General Electric as IM Business Solutions Leader for Supply Chain IT in GE Aviation. Responsibilities ranged from managing complex legacy IT systems operations to the strategic initiatives of emerging technologies and trends in Data Analytics, ERP and Cloud migration.
Sha has also served as IT Leader in the Technology Services Centre of Excellence in GE Healthcare, she was responsible for devising IT technology strategy and roadmaps for the business in Asia. The role has been a transformational leadership role, managing business requirements of emerging markets, stakeholders and program executions.
Prior to joining GE, she has worked in leading IT Organizations for nearly 12 years like Infosys, CMC, Fujitsu ICIM and others. Working with IT services companies, she has gathered diverse experiences of working with Indian and overseas clients.